Learning preferences is a topic that has been taught and debated among e
ducators for a long time. I remember taking a multiple choice test in my first University class where they had us choose "how best we learn." Am I an auditory learner? Visual? Kinesthetic? I'm not completely sure, but I am fairly certain a 20 question survey won't give me accurate results on my learning preference or, as many people suggest the whole premise is a myth, if I even have one.
Gosh, the start of this post is cynical. Here is a picture of my dog if you want some more upbeat vibes.
IMAGE RETRIEVED FROM: FRBATLANTA
When I recollect my educational experiences, I can't think of one particular digital resource  (print, audio, text) that I found immensely better than others to learn from.  However, I remember certain assignments that I really engaged with, which led to deeper understanding of content.   I think Tony Bates put into words what I never could: the reason I felt more engaged  with an assignment is because the strength of the medium enhanced the project. I will be the first one to tell you that I was not a fan of Shakespeare at all in high school and university. I also think it's currently over-taught, and this is coming from an English teacher — so bring on the pitchforks!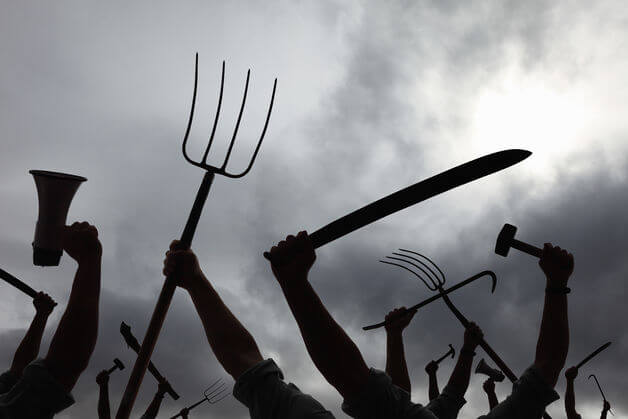 However, one of my favourite projects was creating a video for Shakespeare's Hamlet. I remember we were given choice for how we wanted to present our project, and my friend and I had a great idea to record what happened in the play. Did I grow an intense love for Shakespeare from doing the project? Obviously not, as evident by the oh-so-intense-black-and-white-to-create-angry-and-sad-mood pitchfork picture above. But, the digital resource (in this case video), provided me with an opportunity to dig deeper and enjoy a text and medium I would not have otherwise. To this day, Hamlet is my favourite of Shakespeare's plays, and I know the sole reason for this is because of the opportunity I was given to interact with the play.
[Insert Embarrassing High School Video If You Can Find It Here]
I also had to self-teach myself how to edit videos, include a realistic lightning bolt (seen above), and change audio levels from clips to make it cohesive; these are all skills I use in my personal and professional career. As technology continues to advance and become more accessible, there is an opportunity to create a lot more assignments that utilize different media. While I loved that Shakespeare project, it was one project out of the whole semester. Now teachers are able to embed technology in their "traditional" lectures, adding an extra dimension for students.
As Carla explains, her "classes are guided by Google Slides but embedded within those slides are varying types of media including "games" (Kahoot, mentimeter) for student interaction."
This is how I have started to enhance my lessons in all of my classes this year. Is it high on the SAMR model? Not particularly, but it's still creating more opportunities for students engage and interact in a more kinesthetic way, while providing information through text, audio, and video. I find this type of lesson especially helpful in classes where the focus is on content rather than product (Psychology versus ELA). Bates mentions how certain media, like video, is better for showing process, while text lends itself to analysis and gathering evidence.  This is interesting because I have always been uncomfortable with an outcome in ELA 20:
Write an essay of explanation (e.g., a process, instructions) that:

– is informative with a clear focus and specific details

– demonstrates thorough understanding of the process of written work and presents the work in manageable steps (time order, numbered steps, and so on) and the correct order

– begins with an introduction that interests the reader

– includes thorough, detailed, clear information needed for the reader to understand; examples and explanations directly support focus

– concludes logically

– uses terms associated with the process accurately.
Interesting that, within the outcome, it asks students to make logical conclusions, as the logical medium for explaining process is not through text. BOOM, take that, curricular outcome! You've been #rekt by Koskie. Sorry, this iron deficiency is really shining through
on this post. Seriously though, I have struggled making sense of this outcome since I started teaching ELA 20, and now I know why; the medium did not enhan
ce the content. I made my students create YouTube videos to explain process last year, ranging from changing oil in a car to yoga because I simply didn't see the relevancy in creating an essay of explanation. We seem to be creating tension between media and content, which might help explain why students are not as engaged in classes. Natalie describes how important it is to choose media with purpose and I absolutely agree. We need to consider media when we are creating assignments and not simply do it to check the "I did a multimedia presentation so I am technologically savvy" box.
We've all been there as teachers: deciding not to use a medium to spare time or believing it will won't increasing understanding of content. I think it would be worthwhile to review which media would enhance knowledge and vice versa, so we can teach the strengths of digital resources through content. Upon reflection, I now see my most successful assignments always have the content aligning with the strength of the media. Woahh.
Does anyone else see the connection between strengths of media and successful projects they've tried? Comment below!